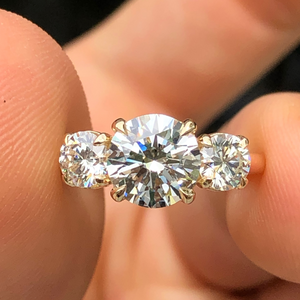 Our classic three-stone ring set with three Round Brilliant cut diamonds is made to order with love. There are many ways to create a beautiful ratio regarding the side stones in relation to the center Round. David Wachler works personally with each client to determine their preferences and provides many options to create an ideal and beautiful finished piece. We always match color, cut, and clarity from our center to side stones. Ultimately the ratio you choose (size of side stones) is up to you, although we will guide you!

We make this design for any shape and Carat size. 
Available in 14k, 18k White, Yellow & Rose Gold or Platinum. 
Please allow 2-3 weeks for delivery time. 
Does not include center stone.